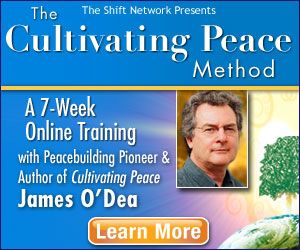 The Cultivating Peace Method: A Course on the "nuts and bolts" of Peacebuilding
with James O'Dea --STARTS FEB. 20th!
Register/Info Here    You don't have to go to Rwanda or Syria to be a peacemaker. There are opportunities for you to cultivate and spread peace right where you are.                
Listen In Audio from Feb. 16 Q&A session with James on "The Nuts and Bolts of Peacebuilding"

During this course you will discover how to:
Connect the inner and the outer – tap into your essence and act from a place of personal alignment to affect real outer change
Become an "energy master" – the key to peacebuilding – and recognize your energy processing style
Identify and deal with all forms of bullying
Stand in the fire of opposing views and feel whole as well as hold space for others to do the same
Transform fear and anger in yourself and among others into mutual trust and compassion
Cultivate listening and dialogue to co-create a culture of peace in your family, workplace, organization or community
Identify and heal old wounds in yourself and with loved ones, colleagues and community members
Accolades for James O'Dea's service to peacebuilding:
"James O'Dea penetrates to the soul level where the Source of Love lives. By recognizing and loving that universal essence of being within us, no matter who we are, he reveals and heals the violence. He provides us with a path that each of us can follow to heal the world and ourselves. I find that every moment I spend with him is precious and brings peace to my soul."
- Barbara Marx Hubbard, philosophical heir to Buckminster Fuller, author ofConscious Evolution and Birth 2012 and Beyond
"James O'Dea is a modern-day Bard and is deeply engaged in the Great Turning of our times. He draws on his well of wisdom and history of ages in speaking to our times. James is a wise soul and lover of life."
- Lynne Twist, author of The Soul of Money and founder, the Pachamama Alliance and The Soul of Money Institute
"James brings a spirit of peace and reconciliation into life with his very being. He is a wise global citizen whose compassionate heart has emerged from the fire of a lifetime of sacred activism. I highly recommend James and the many gifts he brings to our world in transition."
- Duane Elgin, author of Voluntary Simplicity, The Living Universe
"James O'Dea's life experience and skillful writing make peacebuilding personal and accessible. He shows us that 'cultivating peace' is not just what UN diplomats or professional mediators do. It's a vital part of each of our lives."
- Mark Gerzon, author of Leading Through Conflict and Global Citizens
"James O'Dea is indubitably one of the most evolved souls on this planet. He can advise others on how to become a global peace ambassador because he is one himself. The spread of his message worldwide is one of the key preconditions of creating a peaceful transformation worldwide-and in time."
- Ervin Laszlo, renowned systems theorist and founder of Global Shift University
"O'Dea liberates our imagination about peace; his insights enrich the field of conflict transformation."
- Abdul Aziz Said, International Peace and Conflict Resolution Program