What we see in the great teachings of the masters through the ages is that your consciousness modulates the energy around you. It's your consciousness that expands the energy or contracts the energy. So right there we have the primary map that says, wow, all of the show, all of the skills building has to relate to whether you're expanding or contracting your consciousness and, of course, what is it that expands and contracts your consciousness and particularly in difficult conflict situations.Ai
(more…)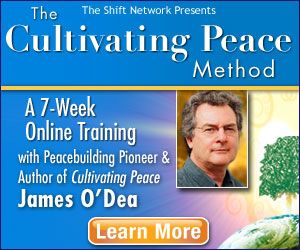 The Cultivating Peace Method: A Course on the "nuts and bolts" of Peacebuilding
with James O'Dea --STARTS FEB. 20th!
Register/Info Here    You don't have to go to Rwanda or Syria to be a peacemaker. There are opportunities for you to cultivate and spread peace right where you are.                
Prayer Vigil for Sandy Hook
With James O'Dea and Sister Jenna
Enjoy quotes from James O'Dea's bestselling book, Cultivating Peace coupled with powerful and inspiring images. To engage more fully with a global network of Peacebuilders go to the Cultivating Peace Facebook Page
---
Everyone is an Ambassador for Peace: Audio
---
Everyone an Ambassador for Peace: How a Shift in Consciousness is Changing Our World for Good and We Can Be Part of It
James O'Dea
on The Yoga Hour Online Broadcast
James O'Dea, former Director of Amnesty International's Washington DC office and faculty member of the Institute of Noetic Sciences, joins Rev. Ellen Grace O'Brian from the Center for Spiritual Enlightenment for a breakthrough conversation about the transformation of global consciousness that is changing hearts and minds and bringing the potential for real peace to our doorsteps. Discover how it all begins with choosing peace for yourself and for everyone else. O'Dea writes: Choose peace as a compass for your inner life and for every relationship in the world, and you will get the biggest wake-up call of your life.
James O'Dea is a renowned figure in international social healing who has conducted healing and reconciliation dialogues for 20 years and was director of Amnesty International's Washington, DC, office for over ten years. His work as co-director of the Social Healing Project led him to Rwanda, Israel/Palestine, and Northern Ireland. The lead faculty of the popular Peace Ambassador Training hosted by the Shift Network, James is also on the extended faculty of the Institute of Noetic Sciences and is its immediate past president. He is also a member of the Advisory Board for the Peace Alliance. 
TO LISTEN TO ARCHIVED PROGRAMS, (click here)
We are moving from being locked into outrage at war and violence, or being defined as a protest movement, to creating a culture of peace from the ground up and from the inside out.
We are moving from the reactive condemnation of others arising out of a presumed superior moral position, to engaging in dialogue, listening, and drawing on nonviolent communication strategies.
We are moving from labeling those who disagree with us as the enemy to recognizing the inherent flaw in creating enmity as a peace strategy. In this way our work attempts to dissolve polarizing behaviors.
We are moving from a consciousness that is problem centered to one that is solution centered. This has a radical impact on how we organize. We are informed by our vision, and our approach is not always defined by the tactics or stance of the opposition.
We are moving from piecemeal, feel-good, quick-fix interventions, to whole-system maps and systemic transformation.
We are moving from a reliance on ideological frameworks to integral approaches that are embodied manifestations of peace at the individual and collective levels.
We are moving from activism that leads to burnout and relationship breakdowns to one in which working for the cause of peace requires self-care and time for quality relationships.
We are moving from the battleground of proving who is right and who is wrong to understanding worldview transformation and exploring who are wounded and how they can find healing.
We are moving from an obsession with punishment to the search for truth, reconciliation, and restorative justice.
We are moving from demanding rights to assuming our responsibility to create environments that promote rights and social justice.
We are moving from merely critiquing the absence of humanity in others to honing our own capacity for compassionate action, deep empathy, and authentic forgiveness.
-James O'Dea, from Cultivating Peace
Humanity faces a time in our evolving story when we must harvest our deepest collective wisdom in order to survive and even thrive as a healthy, peaceful and sustainable planetary civilization.
In the course of humanity's journey we have many great achievements to celebrate and honor but we have to acknowledge what has been misguided, damaging to each other and harmful to all life. It is time for healing and a new beginning.
Great skill is now needed to reconnect the bonds of our collective interdependence on behalf of all of Earth's diverse peoples and cultures and to restore an original contract with our planet's eco-system and its intricate design for all life.
We cannot evolve skillfully at this vital juncture in our collective story if we fail to integrate the teachings of our wisdom keepers.
Both reason and conscience require that the precious wisdom of Earth's Indigenous peoples be fully acknowledged. Their skillful ways of living in harmony with Nature and its laws have too often been marginalized and ignored.
Humanity has paid a great price for destructive actions committed against Indigenous peoples. In the name of religion, profit and progress, some of humanity's greatest knowledge about the interrelationship of all life forms has been placed in jeopardy.
Increasing numbers of people now recognize the importance of supporting the transmission of this essential wisdom.
It is in this spirit of deep recognition and appreciation for the value of Indigenous wisdom that we, the signatories to this declaration, hereby proclaim our commitment to the following:
Apology is due to Indigenous peoples for the suppression and violation of their cultures and ways of being. We invite communities, institutions, local authorities and governments to formally and informally offer sincere apology for past actions that resulted in cultural oppression and denigration.
Responsibility for past violations, wounding and discrimination must be expressed in truthful historical narratives and educational materials. We recommend the formation of local and national initiatives to take responsibility for the past and explore the nature of Indigenous wisdom. We encourage support for the production of a wide array of accessible media and curricular materials to set the record straight and ensure the accurate and appropriate transmission of Native wisdom teachings.
Reconciliation must be sought so that healing may occur between Indigenous and non-Indigenous peoples. We call on representatives of public and private institutions to seek ways to engage in meaningful acts and processes of reconciliation through ceremony, presentations and gatherings.
Collaboration in multiple contexts relating to health, environment, sustainable economies and educational opportunities will constitute an essential dimension of expressing sincere apology, acknowledging responsibility and fostering reconciliation. To these ends we encourage collaboration with Indigenous communities and institutions to optimize our collective learning and healing in this pivotal time for all humanity.
We, the undersigned, pledge our commitment to these ideals and the promotion of concrete actions to support respect for Indigenous peoples, a shared partnership for life on Earth and the transmission of our collective wisdom:
Signed by (among many others listed at www.declarationofcommitment.com):
| | |
| --- | --- |
| 19 - Donnal Walter, Roland, AR, United States | 20 - Mona Polacca, Tempe, AZ, United States |
| 21 - Lorna McLeod, Eureka, CA, United States | 22 - Henry Poole, Lafayette, CA, United States |
| 23 - Deborah Aikens, Eugene, OR, United States | 28 - Debra DeWeese, Olathe, KS, United States |
| 29 - Lorna Stewart, Sydney, Non-USA, Australia | 30 - Paul Andrade, San Leandro, CA, United States |
| 31 - Heidi Robins, Adelaide, Australia | 32 - Joany Lawrence, Palmetto, FL, United States |
| 33 - Stewart Allen, Fresno, CA, United States | 34 - Joy Biggs, Ontario, Non-USA, Canada |
| 35 - nancy fleecs, north platte, NE, United States | 36 - Olympia Terral, Hagatna, guam, United States |
| 37 - Martin Lutz, Koeln, Non-USA, Germany | 38 - Shari Doane, Indianapolis, IN, United States |
| 39 - Michael Edwards, Viera, FL, United States | 40 - stevee postman, portland, OR, United States |
| 41 - mollie suddeth, munfordville, KY, United States | 42 - Eric Knudsen, Portland, OR, United States |
| 43 - Diane Elliot, Roanoke, VA, United States | 44 - Linda Schiller-Hanna, Medina, OH, United States |
| 45 - Carolyn Workman, Columbus, OH, United States | 46 - Alison Weeks, Portland, OR, United States |
| 47 - Audrey Lewis, Salt Lake City, UT, United States | 48 - Kyle Bracken, Marina Del Rey, CA, United States |
| 49 - Eric Roberts, Highlands Ranch, CO, United States | 50 - ann hunt, eureka, CA, United States |
| 51 - Tanmayo Lana Lawson, Bribie Island, Non-USA, Australia | 52 - Brad Farrant, Perth, Australia |
| 53 - Jaime Yallup Farrant, West Leederville, Non-USA, Australia | 54 - Amu Karunesh, Barstow, CA, United States |
| 55 - Tessa Shields, SLC, UT, United States | 56 - Maureen Chase, Lowell, MA, United States |
| 57 - kim morris, langley, WA, United States | 58 - Bonnie Faith, Cambridge, MA, United States |
| 59 - Patricia Bunnell, Fullerton, CA, United States | 60 - Kristie Vasili, Sydney, AK, Australia |
| 61 - Jill English, Westminster, CO, United States | 62 - Kathryn Harris, Englewood, CO, United States |
| 63 - Margaret Dayspring, Atascadero, CA, United States | 64 - Rosie Bookallil, Mullumbimby, Australia |
| 65 - Ellie van der Est, Rotterdam, Netherlands | 66 - Carol Bostick, Concord, CA, United States |
| 67 - Devaa Mitchell, San Rafael, CA, United States | 68 - Priyadatshani Pande, Kathmandu, Nepal |
| 69 - Cathy Burchett, Overland Park, KS, United States | 70 - Annemarie Colbin, New York, NY, United States |
| 71 - christine cohen emery, montpellier, France | 72 - Janyce Lukowski, Schenectady, NY, United States |
Founding Signatories
James O'Dea – Author
Stephen Dinan – The Shift Network
Glenn Parry – SEED Graduate Institute
Philip Hellmich – Summer of Peace
Claudia Sobrevilla – Environmentalist
Bruce Lipton – Author
Nina Meyeroff – Children of the Earth
Diane Williams – Source of Synergy Foundation
Barbara Fields – Assoc. for Global New Thought
Kathy Gardarian – Qualis International
David Gershon – Empowerment Institute
Deborah Moldow – World Peace Prayer Society
Lynnea Lumbard – New Stories
Gordon Dveirin – The Claritas Institute
Ocean Robbins – The Food Revolution Network
Rinaldo Brutoco – World Business Academy
Rick Ulfik – We, The World
Terry Patten – Bay Area Integral
True Peace demands big changes – and for many of us, that means undergoing an initiatory journey where we open up to new levels of growth, capacity and insight.
But even with the best intentions for peace, you hit up against resistance, fear and old wounds. The status quo and old paradigms and history block you, too; as do old ways of relating to others, which can lead to negativity and conflict instead of compassion and mutual respect.
Nipun Mehta & ServiceSpace.org 
ServiceSpace.org (formerly Charity Focus) recent inspiring interview with James O'Dea. *Audio, Notes and content below thanks to Nipun Mehta and ServiceSpace.org.